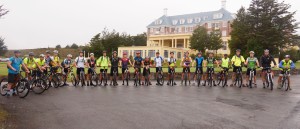 The Crest to Crest team at the start of the Mountain Bike leg
Volume 24  No 1
This our first true electronic newsletter. We are finding our way and there will be changes over the coming editions. On this page, you will find the first 2 items on the Contents below. For the other sections, please click on the section and you will go to a new page. At the bottom of each page is a Return to Contents page.
Hope it works for you and we would welcome any constructive comments
Contents
Rector and Deputy

From the Rector
Dear Parents,
Welcome to the first newsletter for 2018. I would like to extend a warm welcome to all 'new' PNBHS parents and to Old Boys who are now re-joining their school as parents. For a number of our young men, and their parents, this first newsletter for the year will serve as not only an introduction to the 2018 school year but also as an affirmation of our expectations and philosophy.
The year has begun in positive fashion and it has been good to see the young men of the school settle into the routines of daily life at Boys' High. Our expectations have been made clear to all of our young men; we expect them to achieve to their potential, we expect them to work hard, we expect them to present themselves in the appropriate manner that shows pride in themselves and their school. Ours is a structured environment where discipline is important and, as American businessman Jim Rohn once said, "discipline is the bridge between goals and accomplishment".
The school vision is to develop educated men of outstanding character. It is a simple but lofty goal; one that we want all of our young men to aspire to. One that will see our young men leave our gates as good men, men of integrity, men who will be good role models, good fathers, husbands, partners. Men who have a strong set of values and a strong moral compass. To do that we must continue to emphasise the importance of maintaining our standards.
Thank you to parents who have supported our intention to maintain high standards of academia, dress and behaviour from the first day of the 2018 school year. It is clear that there is a direct correlation between basic standards being set and adhered to and the extensive list of successes that our young men achieve.
These standards help develop pride in our school and that often intangible quality of esprit de corps.100 years ago the 1918 Palmerstonian asked, "…how can this necessary quality be more fully developed and maintained? It is not something that can be bought; nor does it consist merely in being proud of one's School, although that is essential and goes a long way towards it. It is to feel that you are part of the School; that the School has need of your willing help, and finally it is to give that help with the intention of aiding the School in return for what it has done for you".
In this regard, little has changed. Our traditions and our history are important to us; each and every one of the 1,800 young men of the school are now part of that history, part of those traditions. Our reputation as a school is carried on the shoulders of our young men. Congratulations to those who embrace the school ethos and enhance our reputation; their positive contribution is key in making the school what it is – and long may it continue.
I would like to wish the young men of the school and their families all the very best for a successful 2018.

D M Bovey
Rector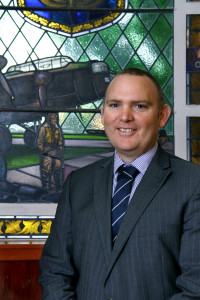 From the Deputy Rector
NCEA Results 2017
In the Student Achievement section, you will have read a summary of our 2017 academic results. From these results, areas in which student achievement was particularly pleasing will be identified, alongside strategies to lift achievement in those where weaknesses are recognised. Reports from our Heads of Departments are presented to the Rector and Board of Trustees, and help to ensure that our internal review processes are rigorous and that aspects for development are acted upon promptly. As always, raising student achievement remains our primary focus.
Literacy and Numeracy
Our NCEA Literacy and Numeracy results continue to be very strong, above the average for New Zealand and for boys in Decile 8-10 schools. In 2017, 100% of our Year 13 students had gained both the literacy and numeracy requirements for NCEA. In the 'Matters Academic' section of the newsletter you will find further information about literacy programmes at Palmerston North Boys' High School and the Year 9 Reading Challenge. I encourage your interest in these programmes and hope that they will form the basis of ongoing conversations with your son. Developing good literacy skills will support academic achievement across all subject areas.
Attendance and Academic Achievement
In many aspects of life, 80% would be considered a good result; many of us would be extremely happy with this as the result in a test. However, when it comes to attendance this is not the case. An 80% attendance record equates to missing one day per week, or approximately eight weeks of school annually. Over 13 years, an 80% attendance rate would result in missing more than two-and-a-half years of schooling. A 90% attendance rate over the same period of time still results in missing more than one year of education.
Our 2017 NCEA data shows a clear link between attendance at school and achievement. Young men whose attendance was between 90% and 100% gained nearly 80% of the credits they attempted, while this figure dropped to approximately 60% for those whose attendance was between 80% and 90%. Young men with between 90% and 100% attendance were twice as likely to gain credits at Merit and Excellence level compared to those students whose attendance was between 80% and 90%. We appreciate that illness, injury and bereavement are part of life. However, being present in class is essential for progress and achievement.
We realise that sometimes getting your son to school is difficult. If you have concerns in this regard please do contact your sons Year Level Dean. We would much rather be in a position where we can work proactively with families, as opposed to trying to repair the damage after a pattern of poor attendance has developed.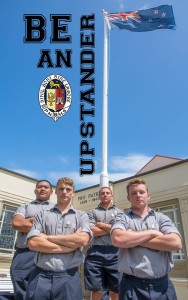 Be an UPSTANDER!
At his first assembly of 2018, Head Prefect Digby Werthmuller delivered a challenge to his peers – be an Upstander. Upstanders look out for each other and proactively take action when they see something that is wrong.
The launch of the Upstander campaign focused on bullying behaviour, with a presentation from Amy Walters of Te Manawa Family Services. Some key messages from the assembly include the importance of supporting each other if we are to develop a true 'brotherhood', that we have an obligation to be an UPSTANDER in situations where others are choosing the wrong behaviour, and if young people encounter situations or behaviour they know is wrong, they should be proactive in seeking help from a teacher or trusted adult so that the situation can be addressed.
Bullying behaviour can, unfortunately, be found in most organisations and as a school we are not immune to this. However, it is our approach to be proactive in responding to such behaviour. Successfully tackling bullying behaviour is reliant upon the involvement and support of all members of our community. If you have concerns please contact your son's Year Level Dean or the Guidance Counsellors, Mr Paul Pottinger (pottingerp@pnbhs.school.nz) or Mr Steve Dawson (dawsons@pnbhs.school.nz).
Wellbeing
In a recent New Zealand Listener article titled 'Age of Anxiety' (link to) a range of troubling statistics were shared. Included was discussion of a November 2017 Ministry of Health report that estimated 79,000 young New Zealanders are at high or very high risk of developing anxiety or depression. That figure had jumped from 58,000 in just one year and includes 12% of all young people aged 15-24. Anecdotally, here at school we are experiencing an increase in the number of young men identified as being 'at risk' in terms of their wellbeing, or who present with some form of depression or mental illness. In response we have employed a second Guidance Counsellor and will continue to work to develop programmes to support the wellbeing of our young men.
A growing body of evidence links increases in mental health issues among young people to the growth of social media and dependence on mobile phones. Julie Lythcott-Haims, author of 'How to Raise an Adult: Break Free of the Overparenting Trap and Prepare Your Kid for Success', links the advent of the mobile phone to a decrease in young people's ability to problem solve and organise themselves, referring to them as "the world's longest umbilical cord." Instead of attempting to solve issues for themselves, many young people's first instinct is to contact someone, usually a parent, to solve the problem for them. Prior to cell phones we had to speak with our parents in the morning and organise what was going to happen during the day and then had to ensure we were on time and ready for the commitments we had made. Nowadays much of this has disappeared; no thought is given to prior planning and there is an expectation that the person on the end of the phone will drop what they are doing to respond. She questions how this is suitable preparation for an independent and autonomous adult life.
The positive psychology movement posits a wellbeing model with six components, or 'building blocks of the good life,' which fit the acronym PERMAV. P is positive emotions. Those of us who are happy experience positive emotions such as happiness, satisfaction and cheerfulness on a regular basis. E is engagement. We have interests that deeply engage us and allow us to experience growth. R is relationships. People are social and crave and value attention from others. M is meaning. Working towards something that is 'bigger' than the individual provides genuine meaning in ways that extrinsic rewards do not. A is achievement. Regularly experiencing a sense of accomplishment, whether at school, in co-curricular activities or in our personal lives, is important. V is vitality. Taking care of our bodies and minds through physical activity, healthy diet and adequate amounts of sleep.
A focus on wellbeing promotes a 'fence at the top of the cliff' methodology, as opposed to traditional 'welfare' or 'ambulance at the bottom of the cliff' approaches. The premise of positive psychology is that each of the six characteristics in the model can be developed and the stronger – and more positive – one is in relation to these characteristics, the better one is able to show resilience in the face of the difficulties that life throws at us.
As a school we work to create opportunities and situations in which young men are able to develop these attributes. For example, there are opportunities to participate in academic, cultural and sporting activities which they enjoy and are able to progress and achieve in, opportunities to develop positive relationships with peers and teachers, opportunities to be involved in team, group and community service activities in which they are contributing to a collective purpose, and a wide-range of co-curricular activities that encourage physical activity.
As parents you can, for example, encourage your son to become involved with activities that he enjoys, to follow his passion and to be involved in co-curricular and community service activities. Young men can struggle to identify progress and achievement. Sometimes progress is slow, and mastering an academic skill, for example, may take considerable time, especially if this is judged solely on a mark or grade. Likewise, developing skills in a sporting context or learning parts of a cultural performance, can be difficult. Helping your son to see the progress that he is making is a very important role that parents can play.
With all aspects of education, progress and achievement is the result of a partnership between home, school and the wider community. In any year, young men at secondary school spend a little over 11% of their time in scheduled academic classes. Consequently, the partnership with our parent community is essential if we are to achieve our school vision of Developing Educated Men of Outstanding Character.
G M Atkin
DEPUTY RECTOR