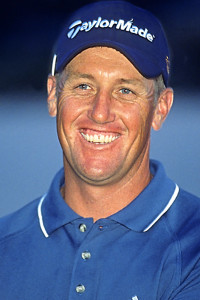 PNBHS 1980-83 – Gordon Club
In 1980 Craig was in 3FR with Paul Woodhead and in 1981 he was in 4FB with Robbie Laird (who is here tonight). Craig won the trophy for the best individual score at the Manawatu/Wanganui/Horowhenua Inter-Collegiate Golf Championship for three years in a row.
In 1981 as a fourth former he was playing off an 8 handicap. The first time this event was held. PNBHS team Craig Perks, Nigel McCabe, Lincoln and Steve Charles. In 1982 as a fifth former he hit One over par 72 at Feilding Golf Club and the following year hit a four-over-par 74 at the Marton Golf Club.
Craig was awarded a Golf scholarship to the University of Oklahoma (followed Grant Waite) and University of Southwestern Louisiana in Lafayette, Louisiana. He turned pro in 1993 and played on the second tier Nike Tour.
In 1999 Craig qualified through Q School (Qualifying School) for the PGA Tour for the 2000 season. At age 35 in 2002, he won the Players Championship, one of the most prestigious tournaments on the PGA Tour, often regarded as the 5th major. He played the final three holes, 3 under par. Chipped in for eagle on the 16th, 25ft birdie putt on the famous Island Green 17th and par by chipping in on the 18th and famously held off a characteristic charge from Tiger Woods on the home stretch.
In 2002 Craig was named NZ Sportsman of the Year. He represented NZ in the 2002 and 2004 World Cups.