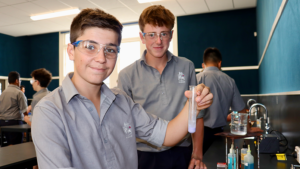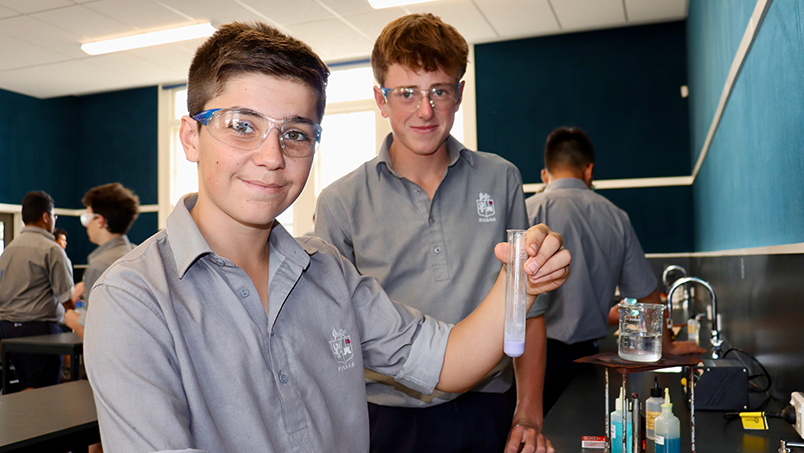 Our curriculum focuses on providing a broad base with an emphasis on literacy and numeracy at junior school, and allows for specialisation at the senior level:
Involves extensive use of Information Technology
Offers acceleration, extension and remedial support to meet a diverse range of needs
Well supported by excellent facilities and resources
A full programme, at all levels, of English Language Tuition (ELT) is available
Challenging core subjects in the junior school progressively lead to a diverse range of subjects and freedom of choice in the senior school. Students receive advice and counselling in the choice of subjects that best fit their future study and career aspirations.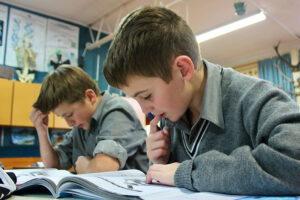 The courses of study at Palmerston North Boys' High School aim to:
Develop and enhance students' literacy and numeracy skills
Arouse interest and promote enquiry by providing relevant contexts
Thoroughly and comprehensively prepare students for assessment
Foster individual thinking and develop effective learning skills
Promote tolerance and co-operation when working with others
Integrate class work and study with sporting, cultural and other involvements and responsibilities
Challenge young men to achieve to the best of their ability in all aspects of school life
NCEA
Our academic results in NCEA Level Two exceed the government benchmark target of 85% and are well above the achievement rates for both boys in the Manawatu/Wanganui region and boys nationally. Our academic results in NCEA Level Three are well above the achievement rates for both boys in the Manawatu/Wanganui region and boys nationally.
ACADEMIC ACCELERATE PROGRAMME
The Academic Accelerate Programme runs across all year levels and challenges our top academic performers by offering them courses of study in advance of their year level. Young men in the Academic Accelerate Programme will gain University Entrance in Year 12, and in Year 13 have the opportunity to study subjects at an advanced level in preparation for Scholarship examinations. University first year papers are offered in a range of subject areas.
SCHOLARSHIP
Scholarship is the highest New Zealand qualification available to secondary school students. Young men from Palmerston North Boys' High School are consistently awarded the majority of Scholarships achieved by boys in the Manawatu/Wanganui region.
UNIVERSITY LEVEL STUDY
Palmerston North Boys' High School has developed a positive relationship with a number of New Zealand universities and university papers are taught in a number of subject areas at PNBHS by our staff members. Additionally, a number of young men complete papers outside of these offerings via distance learning.
LEARNING SUPPORT PROGRAMME
The Learning Support Programme begins at Year 9 with a particular focus on the development of literacy and numeracy skills, a progression continuing into Year 10. At Year 11 the emphasis is on preparing students to gain NCEA Level Two. At Year 12, the Achievement Support Programme is specifically focused on providing assistance so that young men can gain the benchmark NCEA Level Two qualification.
VOCATIONAL OPPORTUNITIES, GATEWAY, TRADES ACADEMY AND STAR TASTER PROGRAMMES
The school offers a number of options in the senior school for students who want to pursue trade-related career options. The Gateway Programme for Year 13 students offers the chance to learn on the job, while pursuing a trade qualification. The Trades Academy Programme offers the opportunity for boys to try out a possible career pathway by undertaking programmes offered jointly by the school and a tertiary provider such as UCOL or the Primary Industry Training Organisation. Star "taster" programmes are offered to Year 11-13 students to enable them to explore future career options. The Year 13 Employment Pathways Programme assists young men to find post-secondary school employment in sectors identified in the Manawatu Regional Economic Growth Strategy.
YEAR 9
YEAR 10
Core Subjects:
Core Subjects:
English
Mathematics
Physical Education and Health or Sports Development Programme
Science
Social Studies
English
Mathematics
Health
Physical Education or Sports Development Programme
Science
Social Studies
Core Modules:
Character Education
Drama
Information Communication Technology
Te Ao Māori
Choose three from the following:
Choose four from the following:
English Enrichment
English Language Tuition
French Language
German Language
Japanese Language
Te Ao Māori me ōna Tikanga
Design & Visual Communication
Workshop Metal
Workshop Wood
Agriculture & Horticulture
Commerce Studies
Visual Art
Performance Music
Music Studies
English Enrichment
English Language Tuition
French Language
German Language
Japanese Language
Te Reo Māori/Hākinakina
Design & Visual Communication
Digital Technology
Workshop Metal
Workshop Wood
New Zealand Studies
Agriculture & Horticulture
Commerce Studies
Sport Science Studies
Digital Art
Visual Art
Drama
Performance Music
Music Studies
YEAR 11 (NCEA LEVEL 1)
YEAR 12 (NCEA LEVEL 2)
YEAR 13 (NCEA LEVEL 3)
Compulsory:
Compulsory:
No Compulsory Subjects
English
or
English Language Tuition
Mathematics
Hāuora
Science
English
or
English Language Tuition
Choose three from the following:
Choose five from the following:
Choose five from the following:
French Language
German Language
Japanese Language
Te Reo Māori
Joinery Construction
Mechanical Engineering
Design & Visual Communication
Electronics
Technical Drawing
Digital Technology
Classical Studies
Geography
History
Agriculture & Horticulture
Biology
Chemistry
Physics
Accounting
AgriBusiness
Business Studies
Economics
Health
Sport Science Studies
Digital Art
Visual Art
Drama
Performance Music
Māori Performing Arts
French Language
German Language
Japanese Language
Te Reo Māori
Media Studies
Design & Visual Communication
Digital Technology
Technical Drawing
Building Construction
Joinery Construction
Mechanical Engineering
Gateway & STAR
Trades Academy
Classical Studies
Geography
History
Electronics
Agriculture & Horticulture
General Science
Biology
Chemistry
Physics
Accounting
AgriBusiness
Applied Commerce Studies
Business Studies
Economics
Calculus
Mathematics
Statistics
Health
High Performance Sport
Sport Science Studies
Sport & Exercise Studies
Art History
Design
Painting
Photography
Drama
Performance Music
Māori Performing Arts
Academic Support Programme
English
or
English Language Tuition
French Language
German Language
Japanese Language
Te Reo Māori
Media Studies
Building Construction
Joinery Construction
Mechanical Engineering
Digital Technology
Design & Visual Communication
Employment Pathways Programme
Gateway & STAR
Trades Academy
Classical Studies
Geography
History
Biology
Chemistry
Electronics
Agriculture & Horticulture
Physics
Accounting
AgriBusiness
Business Studies
Economics
Calculus
Mathematics
Statistics
Health
High Performance Sport
Sport Science Studies
Sport & Exercise Studies
Art History
Design
Painting
Photography
Drama
Performance Music
Māori Performing Arts