At Palmerston North Boys' High School we are proud to point out that in excess of 90% of our young men are engaged in any of our 57 co-curricular activities.
All teaching staff are directly involved as coaches and/or managers of over 180 sports teams and groups at all levels each year.
The less formal interactions between staff and our young men provide another dimension to their all-round development. Achieving excellence through strong competition with the desire and will to win are goals Palmerston North Boys' High School strives for in co-curricular activities.
The School celebrates individual and team successes at assemblies, in newsletters, in the "Palmerstonian" and on honours boards around the school. We are proud of our tall poppies.

Sport
PNBHS runs one of the most extensive sports programmes in New Zealand and while we are extremely proud of our first team results, the opportunity exists to compete at performance or participation levels within any of our 35 sporting codes.
Pride, passion and sportsmanship are key ingredients of the School's sporting ethos which is instilled in every young man, no matter the level of competition.

Performing Arts & Cultural
The School has a strong reputation for the quality and diversity of its music, and the School's Kapa Haka group and Pasifika Club provide a significant bicultural dimension to school life.
The School's annual drama productions and musical theatre groups are widely acclaimed and interest is high. Debating and public speaking are consistently performing at a high level.

Outdoor Pursuits
Experience, respect and appreciation of the outdoors is viewed as a high priority by the School.
The School's proximity to mountains, bush and water enables students to develop leadership and group skills under the direction of qualified and competent staff.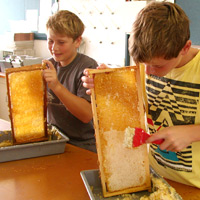 General Activities
A multitude of other activities are recognised as being important for many young men.
They cater for a wide range of interests and compliment the recreational and general studies programme in the senior school.