We are looking for well-qualified and enthusiastic teachers to join us on our journey to Develop Educated Men of Outstanding Character | Hai Whakapakari i Ngā Tamatāne Kia Purapura Tuawhiti. At Palmerston North Boys' High School you will enjoy a well-resourced and collegial staff environment, an engaged and supportive school community and the opportunity to positively impact the lives of our fantastic young men. Applicants should be willing to support our co-curricular programmes.
We currently have no teaching vacancies available.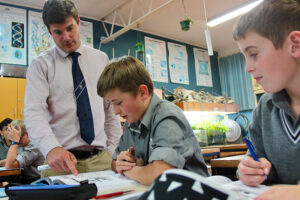 Teachers at Palmy Boys are welcomed into a supportive and collegial environment. We have well-developed mentoring and support programmes for both teachers new to the school, and for teachers new to the profession. Supportive and effective pastoral systems create settled, calm and productive classroom environments. This, coupled with high expectations of student behaviour and achievement, means teachers can concentrate on teaching rather than classroom management. Our most recent ERO review (June 2017) was very positive and we earned at 'four-to-five year' return time. Our teaching staff enjoy excellent support from our parent and old boy communities and I do believe we are effective in meeting our school vision 'To Develop Educated Men of Outstanding Character.'
Palmerston North is a youthful and vibrant city experiencing steady economic growth. This means there are excellent employment prospects in a wide range of sectors for teachers' partners. We are fortunate to be able to enjoy affordable living conditions, and in particular housing costs, for either rental or purchase, remain realistic for those on a teacher's salary. This provides a great opportunity to pay off student debt or save for overseas travel or for a mortgage.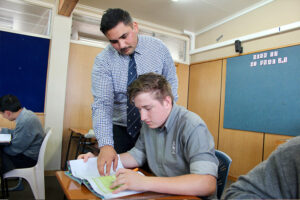 Palmerston North is also a great environment to bring up a family. Our central location suits all lifestyles: beaches, mountains – for tramping or skiing, and rivers are all on our backdoor step, there is a dynamic café, arts and theatre scene, as well as a wide range of easily accessible and affordable sporting opportunities. This allows parents to be involved with and support the activities their children are involved in. Do you hate being stuck in traffic? A bad traffic day in Palmy might add another two or three minutes to your five-minute commute to work.
I am incredibly proud of our dedicated and expert teaching staff, our young men and the important role we play in the Palmerston North and Manawatu communities. We take working to achieve our school vision, To Develop Educated Men of Outstanding Character, seriously.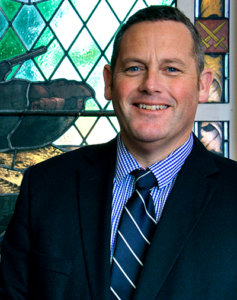 We want staff who will work with us both in the classroom and in co-curricular activities to help develop young men we can be proud of and who will go on to make a positive difference to our society and our world.
If you would like to express your interest in working at Palmerston North Boys' High School, please email
Kind Regards,
David Bovey
RECTOR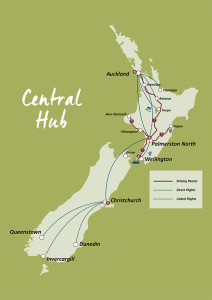 Palmerston North is located in the North Island, about 140km (87 miles) north of New Zealand's capital, Wellington. It is the geographical centre of New Zealand, with a population of 89,000, and excellent road connections in all directions. Palmerston North hosts its own airport, which has frequent domestic services to all major cities and numerous regional centres.
Palmerston North is a close-knit community, with a welcoming culture and excellent safety record. Palmerston North is a multicultural city, with over 100 different cultures and a dynamic and respectful international perspective to community culture.
Palmerston North enjoys strong economic growth and a wide range of educational facilities, including Massey University, Universal College of Learning (UCOL) Te Wānanga o Aotearoa, International Pacific College (IPC), English Teaching College (ETC) and a number of other specialised tertiary education institutes. Palmerston North is known as the 'Knowledge City' and, as a result, attracts both staff and students from all over the world.
Our city and region are experiencing record levels of growth and investment and we're inviting you to be part of the action. Manawatū allows you to strike the perfect balance of career and lifestyle, so you can focus on what's important to you. Come and discover why our locals love to call Manawatū home, and start living the life you've always dreamed of.
Click here to read more about the Manawatū and what it has to offer.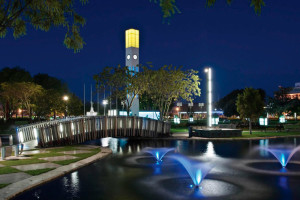 CENTRAL PLAYGROUND
• Central location in the heart of the lower North Island
– Our prime central location in the heart of the North Island means we are within two hours of Whakapapa and Turoa ski fields, Hawke's Bay and Martinborough vineyards, the Whanganui River experience and NZ's capital city, Wellington.
• A variety of outdoor activities and unique destinations close by
• Excellent hiking, running, cycling and mountain biking trails
• Nearby beach and river areas for fishing and swimming
• Close proximity to vineyards, ski fields and Wellington
AFFORDABLE, EASY LIVING
• 10-minute average commute time
• Close-knit community – everyone is a friend of a friend and newcomers are warmly welcomed
• Enjoy all the perks of urban living, surrounded by a great rural lifestyle
• World Recognised 'Safe City'
• Quiet
• Lower house prices and cost of living compared to Auckland, Wellington and Christchurch
"I have really enjoyed the easy access to the city. Easy to get around. Gym, work, family and friends are close to see often. I enjoy Palmy because it is quite central to Taranaki, Taupo and Wellington. It has a really positive fitness and sports culture and feel the city itself encourages a healthy lifestyle."
EDUCATION AND KNOWLEDGE CITY
• A centre for learning and knowledge
– Excellent tertiary education
– Quality primary and secondary schools
– First-rate education opportunities at any stage of life
VIBRANT EVENTS CALENDAR
• A variety of cultures, bringing a dynamic international perspective
• Active, creative community, where artistic and performing talents are nurtured
• Vibrant events calendar – always something going on
• Concerts, expos, shows, motorsport events, sports tournaments, fair and film festivals
• 8 cinemas, a number of museums and more than 400 retail outlets
• A great range of cafes
FAMILY ORIENTATED CITY
• Great place to raise a family
• Numerous parks and playgrounds
• Wide range of early childhood centres and schools within close proximity, providing ease of access to watch your children play sport, receive awards at school
"Palmerston North is an ideal place to bring up children. Great schools, great opportunities for tertiary study."
"I left Wellington to come to Palmerston North and have enjoyed the quieter pace of life, community spirit and lack of traffic issues.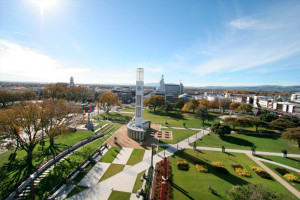 Palmerston North Boys' High School is located within walking distance to the City's main centre & facilities:
Palmerston North City & Manawatu
Palmerston North City and Manawatu
Click on the video above to view a digital display on Palmerston North City and Manawatu.
Palmerston North Boys' High School Grounds