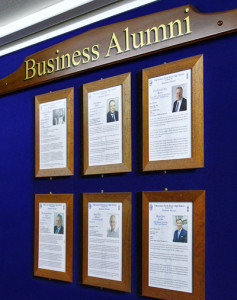 The Business Alumni was developed by the School and the Old Boys' Association in 2010 to recognise Old Boys who have made a significant contribution to business creation and development.
The Business Alumni has developed an area in E Block, where commerce subjects are taught, that honours Old Boys who have been or are:
Business leaders who have acted as a role model for others in the industry
Contributing, or have contributed, to the economy and society through business enterprise
Demonstrating community responsibility and involvement
It is the Business Alumni's intention to name one or two new members annually to join the Palmerston North Boys' High School Old Boys' Business Alumni and as this list grows we hope the biographies will inspire those who take time to read what those in our alumni have achieved.
The Business Alumni hopes that young men, who are aspiring business leaders of the future, are able to read the achievements of our Business Alumni inductees and accordingly set goals for their own career. The young men of the school do appreciate the achievements of our Old Boys and it is important for them to recognise the opportunities available and to read about Old Boys who once sat in the same seats as they are sitting in now.
We believe that it is important to acknowledge those who make a difference, who take the opportunity to lead in their careers or personal lives as these people make a difference to the quality of our lives. As a school, we continue to emphasise the importance of competition and achievement. We have many proud Old Boys and we are indeed proud of them and for the difference they have made; their actions have endorsed our values.
Sir Peter Blake said "It is vital to get people to understand the problems and make them realise it is not just for governments to control. It needs the average person to say enough is enough for the right informed reasons."
We believe that the Business Alumni tradition is in keeping with the high standards the School strives to develop and maintain, and we hope that the actions and achievements of our Old Boys may inspire generations to come.
BUSINESS ALUMNI INDUCTEES: