2022 PNBHS/PNGHS SENIOR PRODUCTION – OKLAHOMA!
Click HERE to purchase your tickets now!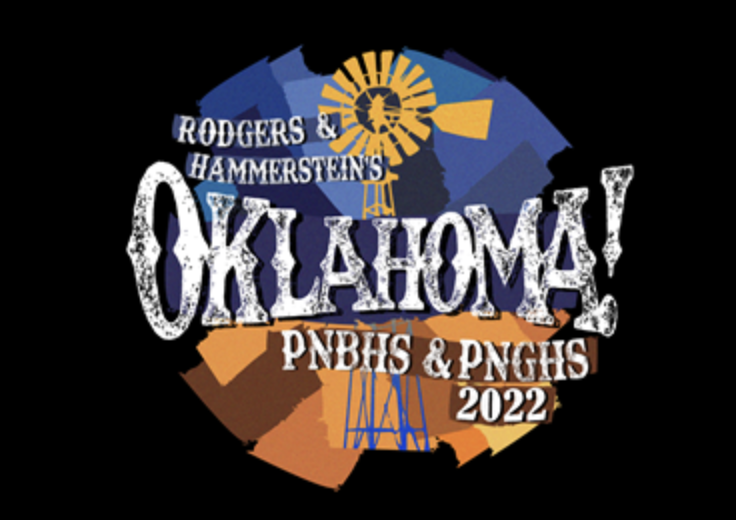 Click HERE to purchase your tickets now!
Onstage in the Speirs Centre: 17-26 March 2022
Oklahoma!
"I don't say I'm no better than anybody else, but I'll be damned if I ain't jest as good!" Aunt Eller captures the historical background and upbeat mood of Oklahoma! with this typically pithy observation as she calms a rambunctious melee of brawling farmers and cowboys! The action takes place in 1902 near the railhead town of Claremore and, including the title song, this ageless show delivers some of the greatest showstoppers of all time: Oh What A Beautiful Morning, I'm Just A Girl Who Cain't Say No, People Will Say We're In Love and the hard out dance number, The Farmer and the Cowman. This is traditional Musical Theatre at its very best, rollicking, tragic, hilarious and poignant. We promise to put a smile on your face – the PNBHS/PNGHS Senior Production Company's production of Oklahoma! will be vibrant and foot-stompingly engaging.
Onstage in The Speirs Centre March 17 – 26
Tickets on sale from Jan 1 2022
PLEASE NOTE THAT UNDER THE ORANGE COVID LEVEL, ALL PATRONS WILL BE REQUIRED TO HAVE THEIR VACCINATION PASS SCANNED ON ENTRY. Only those with a valid pass will be admitted.