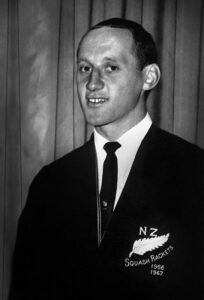 PNBHS 1958 – 1961 – Gordon Club
Don was an outstanding athlete at school. He was later able to transfer his aerobic fitness onto the squash court. He was regularly in the top three in the school road races and in the middle-distance events during the school's Athletic Sports. Don ran successfully for the school at the Manawatu Inter-Secondary cross country. He also played basketball and cricket. He was a versatile and able five-eight on the rugby field and played in a well-performed 8th Grade A team where he was the captain.
Don was a NZ Squash representative from 1966-1971 including three World Championships. He was the NZ Champion in 1967,1969 and 1970 and was runner-up to Trevor Johnston (a PNBHS Old Boy) in 1966 and 1968. He was ranked number 1 in 1967, 1969, 1970 and 1971. Don was North Island Champion in 1969. His brother-in-law, Charlie Waugh (a PNBHS Old Boy) was also a NZ Champion. During the 1971 World Championships held in NZ, Don's Egyptian opponent collapsed with exhaustion when he left the court in Palmerston North. The final three rallies were over 60 shots each. This was an indication of Don's fitness levels. He was a great mover and retriever on the court wearing down many an opponent. Contemporaries labelled him as the player of the time in NZ, forming a formidable Palmy trio with Charlie and Trevor. NZ placed 3rd in the 1967 World Championships in Sydney, with Don the number 4 player. In the 1969 and 1971 World Championships in London and Palmerston North respectively he was the number 1 player. NZ was placed 5th in both these championships.
During the 60s and early 70s, Palmerston North men dominated Men's squash in NZ. Other PNBHS Old Boys international players from that era include Don Mochan, Allan Johns and Bryden Clarke. Gerald Haddon, who is here tonight, was also nationally ranked. Don's sister Megan won a NZ Championship and, uniquely, Don and Megan won a NZ Championship on the same day.