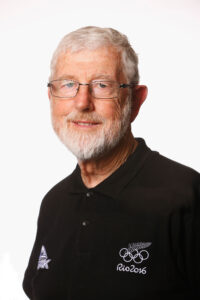 PNBHS 1954 –1958 – Albion Club
Gary was a fine all-round sportsman at school. He was a member of the 1st cricket XI and 1st XV rugby. While at school he represented Manawatu and Central Districts Colts as a wicket-keeper batsman. He appears on the School's Cricket Honours Board for a century against Tech Old Boys. Gary also played hockey, was athletics shot put champion, Club Captain of Albion, vice-captain of the 1st cricket XI, a platoon commander in the School's Cadet Unit and a competitive swimmer. Gary played in the 'famous' 1957 1st XV match against St Patrick's Silverstream after nine members of the initial team were stood down for ill-discipline following the Napier Boys' High School exchange. Gary's contribution included two penalty goals and two conversions in the 16-9 win. He was a renowned goal kicker and scored 119 points in the 1958 season. His 1st XI cricket cap number is 374.
Gary went on to play 100 first-class games of rugby for Manawatu, Wellington and NZ Universities. He also had one game of first-class cricket for a NZ Under 23 side.
Gary has been the Sports Psychologist for 10 Games campaigns; five Commonwealth and five Olympic Games from 1998-2016. He has been on nine International and four Black Cap tours, including the World Cup in the West Indies. He has worked with Central Districts since 2004 and has been the Team Psychologist for the NZ Equestrian Team. He has also had three books and countless articles published.
In 2015 Gary was made an Officer of the NZ Order of Merit for services to Sport Psychology in NZ. In 2017 he was made a Member of the Olympic Order of NZ for services to the Commonwealth and Olympic Games.
Gary has been inducted into the Manawatu Legends of Sport and is a Life Member of Central Districts Cricket.
Gary caught the eye of deceased basketball superstar Kobie Bryant. He promoted Gary's views when he posted a link to the Massey News website on his Facebook page for his 13 million followers. The video was an interview about what Professor Hermansson considers the key factors high-performance athletes need to focus on to achieve at the top level. They met at the 2012 Olympic Games in London.