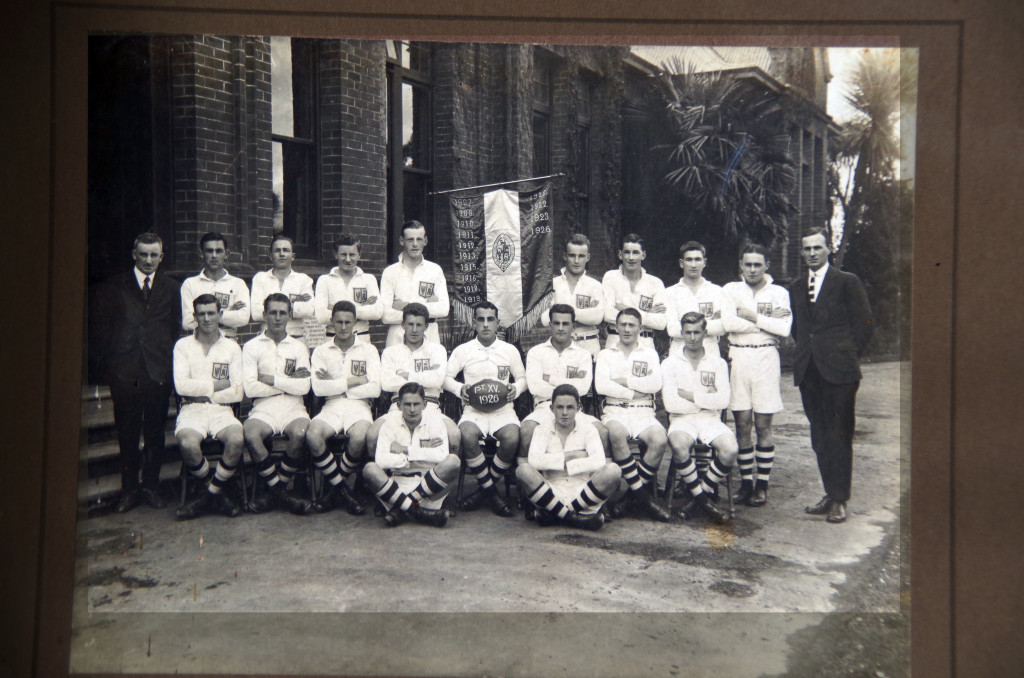 The fellow sitting the front row on the left, looking at the photo is my dad Wallace Clevely.
He was a remarkable man. Like Coke, a school teacher and an excellent coach of numerous sports.
Dad was the head of Hutt Intermediate for 13 years where he coached rugby and netball.
He represented both Hawkes Bay and Wellington at lawn bowls and I recall how he was down 17 / 3 against a commonwealth gold medallist in the champion of champions but ended up losing with a final score of 18 /17. So he did well nationally too.
He was in the 26 and 27 teams. His brother Roy Clevely (my godfather) was in the next three years in  27, 28, 29 & 30' I have their caps as they had five consecutive years. I have their caps, but unfortunately have lost mine!!
Roy was known as 'Mr Bunnythorpe' and he was a former president of the Old Boys Association. Their Grandfather is remembered in Clevely line at Bunnythorpe. The initials on the back of the photo, 'J W Clevely' stands for my grandfather James. He was trooper no 68 in the first expeditionary force to leave NZ for the Boer War in 1899. All of the above were JP's. He took his own horse as did all the troopers.
A really big coincidence. My dad played with Don Biel in the 1926 game against Te Aute at Waipawa for the Moascar Cup.  My Dad said to me the ground was underwater!
In 1956, I travelled to Auckland to play Albert Grammar and was billeted with a Grant Biel, who was Don's son. He later becomes very successful in owning a carpet company and a 'private air force'. All rugby was cancelled except for our game. When we ran onto the field there were buckets of water on the sidelines. Never saw it before or since. Don Biel told me to tell my Dad it was as wet as that game in Waipawa.
Dad, many years later became Deputy Mayor in Waipawa where he coached Central Hawkes Bay to win the Ross Shield.  We were so proud to win this as every schoolboy in Hawkes Bay wanted to play Ross Shield rugby. I will skite now as I was the Captain and CHB hardly ever won.
I found out that Peter Snell played that day for Mount Albert. He gave our lock Ron Griggs his school tie and had Snell written on it and Ron did not realise till I told him.
I told one of my daughters that I had played rugby against Peter Snell. She replied Dad, "Did you run against him". No was the reply… She said, "that would have impressed me" … Women!!
Regards
Barry Clevely (1953-56)