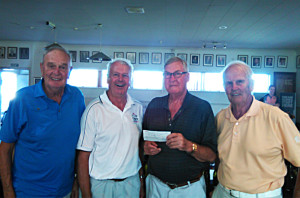 For many years, an annual Old Collegians Golf Tournament has been staged in Auckland – this year around 26 teams of Auckland old boys representing schools from around the country took part.
PNBHS has been a regular at the tournament led by Captain and Team Organiser Derek Adam (5054). While success in the past has been limited, this year's tournament at Pukekohe saw our team take second place overall and picking up a $1000 cheque for the school.
This year's team was Derek Adam, Peter Mitchell (5256), Jack Thorburn (4851) and Duncan Shand (5758) – all at school in the early 1950's and all regulars from the Remuera Golf Club.