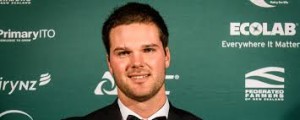 Since finishing Lincoln University in 2014, studying Bachelor of Commerce in Agricultural Management. Matt Redmond (2007-2011) has continued to pursue his dream of going farming where he has been in Culverden. Matt is loving the challenges and the rewards that are attained, proving hard work pays off. Matt felt privileged to win the 'Dairy Manager of New Zealand' last year which has opened up significant opportunities to grow his career.
Recently, Matt was accepted onto the Kelloggs Rural Leadership Programme with 24 other similar minded people from other sectors of the agricultural industry. As part of the Kelloggs Programme, Matt is undertaking a research project with the goal of owning a farm one day, and not having a farm to go back to creates more drive to succeed.
Matt has chosen to investigate the topic of getting next-generation farmers into farm ownership through their own accord. With land values and traditional pathways not being as easy to follow, Matt is looking into elements outside the agricultural industry to see if a business model like the McDonalds franchises where people are able to buy franchises, could be implemented in the farming industry.