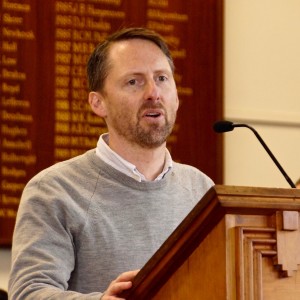 Mr Ryan Orange joined us for assembly on Wednesday 7 September 2016.
Mr Orange is an Old Boy who attended the school from 1989-1993. In 1998 he became just the fourth Old Boy to have been a Rhodes Scholar.
The Rhodes Scholarships are post graduate awards for outstanding all-round students to study at Oxford University in the UK. Established in 1903 under the will of Cecil Rhodes, the Rhodes is the oldest and most prestigious international graduate programme in the world.
By way of introducing Mr Orange as assembly, Mr Bovey thought it was appropriate to borrow from his school testimonial:
David Ryan Orange is an exceptionally talented young man. Ryan is a scholar, a musician, an orator, an actor and a sportsman. He has gained representative honours in numerous activities including being selected as captain of the NZSS Debating team in 1993.
As a sportsman Ryan played hockey for the 1st XI from 1991-93. In athletics he has won numerous track, road race and cross country titles as well as representing Manawatu at North Island and National events.
Mr Orange was a School Prefect, he won the Hornblow Cup for all-round excellence in the junior school, he played cricket and tennis and won a number of academic prizes.
His testimonial concludes thus:
Ryan Orange is enormously talented in so many areas and there is no doubt that he will be a community leader in the future. It has been an honour to have been associated with such a remarkable student.
Since leaving Oxford university Ryan Orange has largely worked in the high echelons of public service in New Zealand and Australia and in public sector reform.
Ryan arrived at Victoria University from PNBHS with four scholarship passes in history, classics, statistics and English. He was the New Zealand young historian of the year in 1993.
At Victoria, he emerged with an arts degree in history and politics and an honours degree in international relations.
On taking up his Rhodes scholarship at Oxford, he completed two Masters degrees, in international relations and in comparative social policy.
At PNBHS Ryan had also excelled in sports, notably athletics (road races, middle distance and cross country in which he won Manawatu junior and intermediate titles) and hockey.
He went with the 1st XI to Australia in 1993 and was a Manawatu age-group hockey rep from 1990 to 1993. He was still playing hockey in 2016 for the Karori club.
In athletics he represented Manawatu at the North Island and schools national championships.
In debating he captained the school, the three-member Central North Island team and New Zealand teams (in Australia) and was the best debater at the 1993 NZ championships.
He was also in the schools junior and senior bands, the choir and school production.
Ryan excelled at debating for Victoria and Oxford University winning a range of New Zealand university titles, Oxford Union debater of the Year in 1999 and was a world championships semi-finalist and third-ranked individual speaker in the world in 2000.
He returned from Oxford to work for management consulting firm McKinsey & Company for 19 months and then spent a year with WorkSafe Victoria in Melbourne before his second stint at Oxford.
He was General Manager strategy with WorkCover SA in Adelaide from September 2004 for more than three years.
By February 2009 he was back in NZ as General Manager medium-term strategy for the Ministry of Social Development, before being seconded to the State Services Commission (SSC) as a principal advisor near the end of 2010.
Then followed four years as an SSC deputy commissioner leading the Better Public Services reforms until becoming a fulltime father of his three children in February 2016 in Wellington. He continues to work in his spare time on public sector reform writing and consulting in developing nations in partnership with the United Nations.
Ryan spoke to 1800 young men at assembly. One of the key points he made was that the boys should make the most of the wide range of activities that the school offers. He himself lived up to this message in that he was a top scholar, a top debater and played in the 1st XI Hockey for three years. But he went on to say that he played cricket, 8th XI, and was hopeless; tried Chemistry and failed and so on – whether you succeed or not is not important – what is important is that you give things a go.
Click here to watch the video to hear Ryan's key messages for our young men.