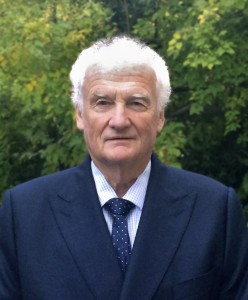 Mr Bruce Donald Lambie
BAg (Massey), MBA (Cornell)
Born: 5 November 1945
PNBHS 1960 – 1963
Kia Ora Club
Junior Lightweight boxing champion 1960;
PNBHS inter-school athletics team 1960 – 1961;
2nd in the 880 yards, 1960 inter-school athletics championships;
1st in the 1961 school intermediate 440 yards,
3rd in the 440 yards, 1961 inter-school athletics championships;
1st in Form VB in 1962.
Business Alumni Inductee March 2017
Bruce began his accounting career with Spring Goddard and Pritchard Chartered Accountants in Palmerston North while studying part-time to qualify as a member of the New Zealand Society of Accountants. He gained a Bachelor's degree from Massey University and later completed an MBA at Cornell University, New York.
Bruce emigrated to Canada in 1969 where he worked for PWC then Traders Group, a Toronto-based merchant bank and became a member of the Canadian Institute of Chartered Accountants.
In 1974 Bruce transferred to London with Traders Group to set up their UK operations. Principal activities in this role included financing deep sea cargo vessels.
In 1980 Bruce moved to New York, and in 1983 he was elected as a Senior Vice-President of the National Bank of North America. He headed the bank's specialised industries department, which was responsible for ship lending activities and the financing of aircraft, from his Wall Street office.
In 1986 he returned to the United Kingdom as Deputy Managing Director of Ship and Offshore financing of Den Norske Bank, a position he held until 1997.
In 1997 Bruce retired from Den Norske to set up his own consulting business. He now divides his time between the United Kingdom and New Zealand.
Bruce has published several articles on leverage leasing for aircraft and ship financing and has presented papers in New York, London and Hong Kong on a range of marine and aircraft financing.