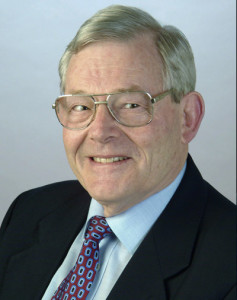 Mr Donald (Don) Gordon Trow
BCom (NZ), FCA
Born: 26 December 1936
PNBHS from 1950 – 1954
Kia Ora Club
Head Prefect 1954;
1st XV Rugby and 1st XI Cricket;
Hodder Brothers Cup for outstanding academic and sporting pursuits;
Business Alumni Inductee February 2012.
Chartered Accountant, Bachelor of Commerce in Economics at Victoria University, Wellington; University prize for Accountancy in 1956, University Blues for rugby 1957-59 and athletics 1957; Rhodes Scholarship nominee in 1957, NZ Society of Accountants Travelling Scholarship in 1958; Life Member of the Institute of Chartered Accountants in NZ in 2003; Distinguished Fellow of the Institute of Directors in New Zealand in 2006; Honorary Vice President of the New Zealand Institute of International Affairs.
After ten years with professional accounting firms, he joined the academic staff of Victoria University in 1965, becoming Professor of Accountancy in 1971, before retiring 35 years later in 2006. In 1999 he was included in Victoria University's shortlist of the 'great teachers of the century' and on retirement, the 'Don Trow Visiting Research Fellowships in Accounting' were named in his honour.
Director: NZ Stock Exchange (1989-2002), Ryman Healthcare (1999-2010), Opus International Consultants (2007-2010) and Northland Co-Operative Dairy Company (1993-1997).
Chairman: Statutory management of Equiticorp (1989–2009), NZX Discipline (2004-2008), Audit and Investment Committee of the Royal Society of New Zealand (from 1997).
Trustee: NZ Law Foundation (1992-1998) and Jack Shallcrass Educational Trust (1998-2008).
Don was frequently involved in setting standards in accounting and auditing; for stock exchange compliance; as an expert witness on accounting matters for the Securities Commission and in court cases. Emeritus Professor Don Trow is widely regarded as New Zealand's "Mister Accounting", having 'cut his teeth' on preparing financial statements for his father while he was still at PNBHS.