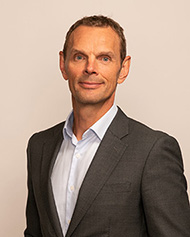 Andrew Mark Cross
BBS, CA
Born: 17 March 1967
PNBHS 1980 – 1984
Phoenix Club
1st in 5BN 1982
1st in 6BE 1983
1st in 7th for Accounting 1984
Senior A Tennis Team 1984
1st XV 1984
School Prefect 1984
Business Alumni Inductee March 2019
Upon leaving PNBHS, Mark studied at Massey University and graduated with a BBS, majoring in
Accounting and Finance. He was awarded a Massey Senior Scholarship for post-graduate study,
which he did not take up, instead joining Price Waterhouse in Wellington where he spent two years in auditing roles. After a year with Westpac in corporate banking, Mark moved into investment banking with Southpac Corporation, a corporate advisory firm which was a division of South Pacific Merchant Finance and the National Bank. He transferred to Sydney in 1995 to support the establishment of a new corporate finance office.
Mark joined the Deutsche Bank in 1995 as a director within the corporate finance division, providing advice to companies on mergers & acquisitions and equity raising. He then transferred to London where he would become the Managing Director, Co-Head of European Mergers and Acquisitions in utilities and energy and was also in charge of graduate recruitment and training for the United Kingdom.
Returning to New Zealand in 2007, and after a 15-year career in investment banking, Mark retired from executive roles and moved into governance and consultancy. He has built up a portfolio of Board roles and is currently a director of Z Energy and Chorus, Chair of Milford Asset Management and the SIL/MFL Mutual Funds, in addition to previous roles as director of Genesis Energy and Argosy Property. Mark is a Chartered Member of the Institute of Directors and a member of Chartered Accountants NZ and Australia.
Mark has been competing in endurance events for some years, including ultra-marathons in the
Sahara and Gobi Deserts and Ironman triathlons. He is a two-time finisher at the World Ironman Championships in Hawaii and has competed successful in a number of Ironman NZ events, where his results include a first in age-group title.
Mark lives in Auckland with his wife, Angela, and has two daughters.