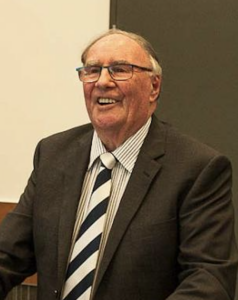 Raymond Barry Clevely
Born:  26 April 1938
Years at PNBHS:  1954-56
Club:  Albion
College House 1954-56
1st XV 1956
Senior A Tennis Team 1956
School Cadets – "B" Company Sergeant
Runner-up 1954 Open Backstroke 33,66, 100 yards to Barry Street
In the opera chorus for "HMS Pinafore", the school production 1956.
 
After leaving PNBHS, Barry qualified as a pharmacist. He was the winner of the Kodak Prize at Pharmacy School for examination success. In 1965 he bought the Waikanae Pharmacy. Later, with five others, he formed the Waikanae Property Enterprise which developed a number of projects in the Wellington and Kapiti areas.
In 1973 Barry was appointed as the original manager of RDC, a property development company. He was CEO of RDC from 1973-88 as the company expanded to more than 50 staff in Auckland, Wellington and Christchurch.
RDC completed a number of major developments during Barry's time as CEO, particularly in Wellington.  Properties were acquired near Parliament where Bowen House is now located; NZI House and Mercer Tower were developed, and the re-development of Stewart Dawson's Corner in Wellington saw Barry and his team win an architectural award. RDC shaped the urban renaissance of Wellington City.  Colenso house – the first development designed by the famous Sir Ian Athfield.
Barry led the development of the National Bank Twin Towers in Auckland, as well as New Zealand's first K-Mart in Henderson. During Barry's time at the helm of RDC he was appointed as Director of the National Land Company which was listed on the Australian Stock Exchange. RDC completed in excess of $700 million New Zealand wide developments.
He is Chairman of Ngahina Developments Ltd. A joint venture company between iwi and a public company (Alpha Securities Ltd). Barry has been a Director of Alpha Securities for over 40 years.
Barry has been a trustee of Pharmaceutical Education and Research Foundation for over 40 years.
Barry was asked to become a part-time lecturer at Massey University; originally intending to be just a few weeks, Barry ended up staying for 12 years. He was a recipient of Massey University's Achievement Award and was made Deputy Chair of the Massey Property Foundation. He was also awarded a fellowship of the Property Institute of New Zealand.
Barry went on to form MC2 Group, where he has been Managing Director since 2003. MC2 Group has been responsible for a number of major property developments and Barry has been a much sought after property consultant. MC2 Group have diversified into viticulture with the development of Horowhenua's first substantial vineyard.
In 2018 Barry was inducted into Kapiti-Horowhenua Hall of Business fame.
Barry is married to Hazel and has three daughters, Amanda, Sarah and Penny. He is grandfather to six.