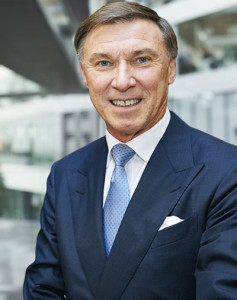 Mr Robin John Stalker
BBS (Massey University – Majoring in Finance)
Born: 27 February 1958
PNBHS 1971 – 1975
Albion Club
Athletics;
Hockey.
Business Alumni Inductee November 2014
Born in Palmerston North, New Zealand, in 1958, Robin earned a degree in business studies at Massey University before beginning his career in 1982 as a Chartered Accountant for Arthur Young (now Ernst & Young) in Wellington. He subsequently accepted the offer of a transfer to London.
In 1986, Robin joined United International Pictures as Controller for the Far East, then travelled to Los Angeles to become Director of Operations for Warner Bros. International. Relocating to Europe in 1992, he spent four years as a self-employed consultant advising clients such as CIC and the Hewitt Group.
Robin joined Adidas AG in 1996 as Head of Corporate Services/Reporting, and has been working for the brand with the "three stripes" ever since. After stints as a vice president for Reporting and then Taxes, he became Chief Financial Officer in 2000. He was elected to the Adidas Executive Board in 2001 and has since been responsible for Finance. In 2005, he assumed additional responsibility as Labour Director.
A fluent German speaker, Robin is married and lives near the Adidas AG global headquarters in Herzogenaurach, Germany. He is also a member of the Supervisory Board of German automotive supplier Schaeffler AG. And while he remains a lifelong fan of New Zealand rugby, Robin shares his passion for the sport with the Bavarian Rugby Association, where he acts as Patron.