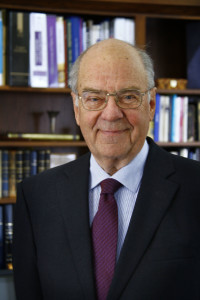 Sir Brian George Conway Elwood
CBE, Knight Bachelor, A.T.C.L (London), LL.B (Victoria), D.Litt (Hon) (Massey).
Born: 5 April 1933
PNBHS 1947 – 1952
Albion Club
School Prefect 1952;
1st in Form V Upper;
3rd XI Hockey;
Senior Debating team;
Dramatic Club;
RSM School Cadets – Battalion 2IC for NZ Cadets.
Business Alumni Inductee March 2017
Upon leaving PNBHS, Sir Brian studied at Victoria University in Wellington. Upon qualifying in law he returned to Palmerston North and was a partner in McBride Lusk & Elwood.
In the 1960s Sir Brian became an advisor/company director in a range of companies involved in the farming, timber, motor vehicle, finance and newspaper industries. For a time Sir Brian served as the Board Chair of the Tribune newspaper.
Sir Brian became a PNCC Councillor in 1968 and continued in this role until 1971 when he became Mayor of Palmerston North, a post he held until 1985. During this time he was also a member of the Wellington Harbour Board, was an Executive Member (and later President) of the New Zealand Municipal Association and was heavily involved in a range of other civic roles.
From 1985-1990 Sir Brian was responsible for the comprehensive reform of New Zealand's local government structures. He was made a Commander of the Order of the British Empire (CBE) in the 1985 New Year Honours List for services to local government and to Palmerston North. He chaired the Survey Industry Review Commission in 1989/90 and was subsequently made an honorary life member of the NZ Surveyors Institute.
In 1990 Sir Brian became Commissioner for the Wellington Health Board responsible for Wellington, Hutt Valley, Kenepuru and Wairarapa where he was prominent in the reform of New Zealand's hospital administration. Sir Brian was knighted in the 1990 New Year Honours List for services to local government.
In 1992 Sir Brian was appointed as an ombudsman and in 1994 he became Chief Ombudsman, a position he held until 2003. In 1999 he was elected as president of the International Ombudsman Institute.
Sir Brian has served on a number of boards since his retirement, and was Chair of the New Zealand Kiwifruit Board from 2004-15. He retired "for the last time" in 2015, at the age of 82. Sir Brian and his wife Dawn have three children and six grandchildren and live on the Kapiti Coast.