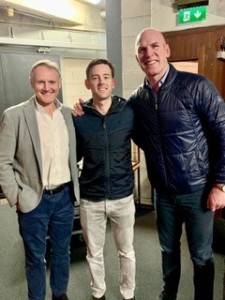 Nick Lampp (1994-98). Nick completed a Civil Engineering degree through Canterbury University followed by a Masters of Engineering Management which led him to a consulting role in Auckland. While working there over a number of years he transitioned from consulting to software management. He is now utilising these skills in Limerick, Ireland where he lives with his Irish wife. They got married last year at the beautiful Te Awa Winery in Hawke's Bay with a number of former College House boys present.
Nick continued his hockey after leaving school playing for University in Christchurch with Michael "Monster" Bevin. In Auckland, he captained the North Shore United Premier side and also took on the Presidency of the club for 3 years before moving to Ireland. Old Boy and Black Stick Hayden Phillips also played for this team. Nick also played hockey in England and at one stage played 7 continuous seasons. This dedication led to in 2017 being selected for the New Zealand over 35s in a 3 match series against their Aussie counterparts. This year he was picked for an Irish Over 35 team to play in a Home Nations Tournament in Swansea and a World Cup event in Nottingham but unfortunately, these have been postponed because of Covid-19. It is anticipated the restrictions in place in Ireland will not be lifted until August. This is still a unique achievement by Nick to be picked for two international age-group teams.
Photo: Nick and his wife went to Joe  Schmidt's book launch in Limerick last December. The third person in the photo is Munster, Ireland and British Lions lock, Paul O'Connell who is an iconic figure in Limerick.