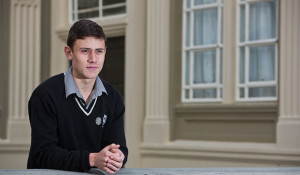 Old Boy Joseph Helu Makasini (2010-14) and his flatmates raised over $9000 for the Arohanui Hospice whilst in lockdown, with an event they created called 'Driveway 1000'.
The group was recently interviewed by Hillary Barry and Jeremy Wells from Seven Sharp as part of their 'ASB Good as Gold' segment, announced they will top up their fundraising efforts by an additional $5000.
Well done to Joseph and his flatmates.
Their Give A Little page reads:
As the world is suffering through a terrible health pandemic many essential workers go on support those in need. For those of us who remain in the safety of our bubbles, it may seem helpless but staying at home and isolating is the best thing that we can do. We decided to help from the safety of our own bubble, our driveway entrance.
The event will be completed by 3 residents of the flat, Joe, Josh and Graham. An impressive 50+ Km will be covered in the Driveway 1000, Apr 2020 Event.
It will start at 1000, Friday 3rd April 2020. There are three rules:
– Complete 1000 laps of the driveway.
– Conduct a Burpee for every dollar donated DURING the race. ($1 donated DURING the race = 1 Burpee DURING the race)
– Have fun.
This event was created for two main reasons:
Reason 1, to raise some funds for those workers who put themselves before others and are out there helping with the effects of COVID-19. We have chosen to donate all proceedings to the Arohanui Hospice, Palmerston North as they do an amazing job providing care to loved ones of the local community.
Reason 2, to provide some entertainment to all those who are self isolating at home. This will be a great comedy event live streamed to families all over the world. Some would say this is a prime sporting event you would hate to miss. The more that is donated during the event the more you will get to enjoy.
Click here to visit their Give A little Page