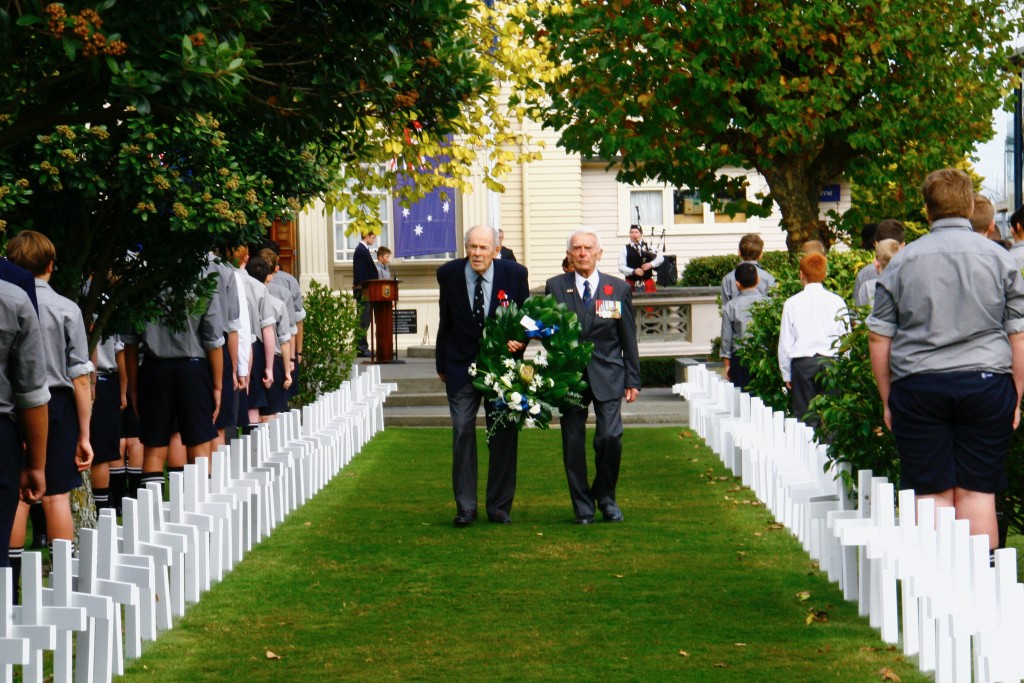 Above photo from left to right: Ron Eaton & Allan Cull at the 2017 ANZAC Day
Ron Eaton (1939-40), long term friend of the school, sadly passed away in early December last year. Ron will be remembered fondly by many Old Boys for his attendance at the School's Annual Anzac Service where, along with Old Boys' Patron Alan Cull, carried a wreath which was laid at the base of the Gallipoli Oak.
Ronald Albert Eaton was born on 11th February 1924 in Wellington to the Reverend Clarence & Louisa Eaton. Ron had three siblings, Owen (who unfortunately passed during the Chinese Uprising) and two sisters, Marion and Eileen. Ron attended various schools during his upbringing, then finished his schooling at PNBHS. His report cards from PNBHS made for some interesting reading. Suffice to say, they will not be included here. Upon leaving PNBHS, Ron started as an Office Boy with Hodder & Tolley Seed and Grain Merchants in Palmerston North. Ron eventually worked his way up to be the Managing Director.
It was during his teenage years that Ron met the love of his life Beryl at a Bible Class Social. They remained an 'item' during Ron's time overseas during the war, with Ron having joined the Territorials and enlisted with the Royal NZ Navy despite being underage at the time. Beryl and Ron were married on 21st August 1946 at the St Pauls Methodist Church by Ron's father the Reverend, Clarence Eaton.
Three years later the couple welcomed their first child into the world, Kay. She was followed by Vicki and then Owen, their youngest. Ron and Beryl were both very keen on sports and met their lifelong friends ('The Gang', as they called themselves) at the Northern Tennis club. Ron and Beryl both played squash and Ron was also an accomplished rugby player. They purchased their first home at 122 Jickell Street sixty years ago and it remains the family home to this day.
Ron achieved a lot during his 95 years. He was a member of the Palmerston North Old Boys Rugby Club and a member of the Manawatu Tennis Club. Even at the age of 62 and after a double knee replacement, Ron was seen back playing club tennis just six weeks later. Ron received the very prestigious Paul Harris Award for his dedication to Rotary. He was also the Chairman of Brightwater Home and Retirement village and one of the original founders of the Arohanui Hospice Beef Scheme which he helped run for 25 years, raising over three million dollars.
Ron volunteered in many capacities, including for the Red Cross, instigating the very successful Red Cross Book Sale. Ron received a Civic Honour for his Community Service for his work with Red Cross and the Hospice Beef Scheme in 2009. Ron also served on the Oncology Trust, was on the NZ Grain and Feed Board for many years and also volunteered for Meals on Wheels. He was one of the originating founders of the Manawatu Rugby Museum and volunteered his time there every Sunday.
A story from Old Boy Jim Kelly (1938-42) at Ron Eaton's funeral.
"The war in France and Germany came to an end on 8th May 1945 when I was on leave with fellow kiwi Ron Eaton also from Palmerston North at Startford-on-Avon. Ron, an old school friend, was in the last stages of completing his officers' course.
It was an impromptu decision to go to Shakespeare's territory, and we enjoyed each others company in a variety of 'let your hair down' activities. Needless to say, the whole town erupted with joy and celebratory activities when the war ended. The only accommodation consisted of a double bed, so it was suggested Jim slept with Ron before his future wife Beryl did.
On an earlier leave, Naval Officer Sub. Lieutenant Jim Kelly with Ordinary Seaman Ron Eaton and another Old Boy Bruce Donald (1939-43) over celebrated their reunion in London. They all took a tumble at the bottom of an escalator with Jim on the bottom. Jim was helped up by a military policeman who to Ron's disgust, saluted Jim and asked if the two seaman had been a problem".