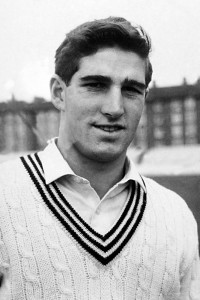 PNBHS 1959-63 – Albion Club
Born in Burnley, Lancashire. While at school, Victor played for the PNBHS 1st XI Cricket and the Football team.
Between 1960-63, Victor scored 52 goals for the 1st XI football team and was the captain in 1962-63.
In 1961 he made his debut for the PNBHS 1st XI Cricket team and became the captain in 1963. During his time in the 1st XI Cricket, he scored over 2000 runs including the first-ever double century for the school of 216 not out v Napier BHS 1963. Altogether during his PNBHS career, he scored 4 Centuries in total and 80 wickets.
A special mention, only one other double century by a PNBHS player – Don Newton 202 Not Out v Kia Toa in 1968 and he is here tonight.
Victor was also the head boy in 1963 and became the Dux Ludorum. He also won the Hoddeers Brothers Cup for Outstanding Academic and Sporting Pursuits by a Senior Student.
When Victor left school Victor went on to become a dual International representing NZ in Football and Cricket.
Victor made his full All Whites debut in a 5-0 win over Fiji on 17 September 1968 and ended his international playing career with 7 A-international caps to his credit, his final cap an appearance in a 1-3 loss to New Caledonia on 14 October 1972.
In cricket, Victor played first-class cricket for Central Districts, Canterbury and New Zealand.
Lead Central Districts to two Plunket Shield victories. 1965-1973 – He played 32 tests for New Zealand. Scored 1266 runs including two centuries and seven 50s. Highest score 116 v England in 1973 and also 105 not out at Lord's in the same series. 40 test wickets. Victor was described as a "Determined batsman who if the situation demanded could attack with enthusiasm. That, allied to his useful off-spin and electric fielding, usually in the covers, made him a great asset".
In 1973, Victor played Three One Day Internationals and became the NZ Player of the Series. That year he was inducted into the Lord's Honours Board for his 105 vs England in 1973
During his career he played 130 first-class matches, 5314 runs – highest score 146, 224 wickets – best bowling 7/65.
Victor won a special place in the game's history for putting the strength of his convictions ahead of his love of the game by not playing fixtures on a Sunday.
Victor also was the NZ Under 19s Coach against Australia in Australia during the 1970s. After retiring from cricket, he taught at Hillmorton High School and Middleton Grange School in Christchurch eventually becoming Vice Principal.